Document category: Company Policy Statements.
Document Reference: U&J 201604/PLS.
Issue Level: Issue 1, April 2016.
Title: U&J Policy on the use of Plasticisers in manufacturing processes and products.
Policy:
The Company:
Ningbo U&J Bearing Manufacturing Co., Ltd is a Limited Liability Company.
Registered in Ningbo: Registration Number 330200400022560.
Address: No. 26, Lujiafan Rd., Langxia District, Yuyao, Ningbo, China
Company Business:
Ningbo U&J is a manufacturer specialising in high precision and low noise deep groove ball bearings and is ISO 9001:2008 and
ISO/TS 16949:2009 certified. Ningbo U&J provides customers with quality products, on-time delivery and best service.
Company Directors:
NingboU&J company directors:
General Manager-- Fu Jianbo
Sales Manager-Helen Chen
Quality Manager- Zeng Deqi

Plasticisers in manufacturing processes and products.
Directors in Ningbo U&J have a shared and equal responsibility for ensuring that NingboU&J and their suppliers have a policy in
place to ensure that the use of designated Plasticisers will not be used in their manufacturing processes or products.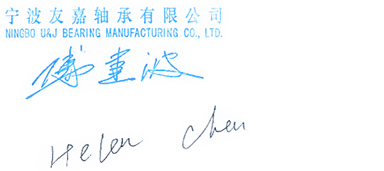 These plasticisers include:
DEHP
DBP
DIBP
BBP
U & J Suppliers:
Ningbo U&J recognises that in acting as a manufacturer for their client companies this imposes a responsibility on U&J to meet the
objectives of the client company and to ensure that their policies are communicated effectively to U&J suppliers and that action is
taken to implement appropriate policies and procedures to comply with these requirements.